Download
Add new
My docs
Warranty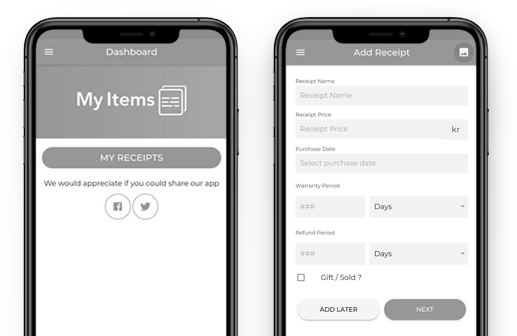 Complete control on all your purchases
With MyItems, you can in a very easy way keep track of your valuable items. With a complet set of documentation, your
items will remain a higher value in the market, and you will benefit of keeping all the knowledge in one place.
You can also enter the date and warranyperiod on the receipts, and the system will remind you before the warranty expire.
When you are about to sell your item, you can easily grant access to a potential buyer who wants to review the documentation.
When the item is sold, then you can transfer all the documentation to the buyer. All the documentation follows the item.
Smart, right?
Features Showcase
Complete control of your items
Enter all receipts and invoices connected to you item, and you can get a report which shows all your cost and income within a period
Gifts, or sold items
If an item is either sold or given away as a present, you can easily enter credentials to the new owner, and then the item will be transfered to the new owner in MyItems
Cloud based archive
All your documents, invoices and receipts is stored in the cloud, and is accessible through your user in any mobile device
Keep track on warranties
The system will give you a warning 10 days before the warranty expires. If you buy with a refund period, the system will give you a warning before the period is passed
Easy to use
You can either take a picture of the receipt in the application, upload
a picture or receive a document in your personal
MyItems email address
Maintenance log
With our maintenance log you can document all the costs that you invest in service and maintenance on your item